Posted by Leather Milk Customer Orders on Oct 27th 2018
GETTING STARTED WITH RESTORATION ENSEMBLE
WHY DO I WANT THIS?
Premium Leather Restoration Ensemble is your one stop shop for all things leather care. Whether you are trying to repair scratches on your furniture from a lovable pet, or waterproofing your saddlebag for a foray out into the great wilderness outdoors; whether you are trying to clean up a stain, or restore very dirty leather, or strike new color back into old, neglected leather that has faded over the years from neglect, this all-purpose restoration station is your key to making strong, vibrant leather that will last you a lifetime. You'll receive every instrument and formula in a stylish display box packaged with love (a perfect gift for your special someone!), and revel in the sensational delights of our all-natural conditioning formulas (FDA approved, safe for human skin): rich, creamy consistencies laced with transient, exotic scents you'll never forget.
WHAT'S IN THE BOX?
Let's have a look for ourselves, shall we? Have a gander, leather aficionado! Careful ye don't get slack-jawed!
So what be all these gizmos and contraptions that meet your star-strucked gaze? We've got your answers right here!
x1 Leather Care Liniment no.1 (6oz)
Leather Care Liniment Formula no.1 is a natural, water-based concoction of vital oils, nutrients, and a few mystical properties. Gentle and pleasantly scented, Formula no.1 is perfect for most leather bags, purses, shoes, boots, saddle/tack, and leather apparel. Read more about this all-purpose conditioner in our featured Leather Care Liniment Guide.
x1 Straight Cleaner no.2 (6oz)
Straight Cleaner Formula no.2 is a mild blend of water and other non-alkaline cleansing ingredients that softly remove leather-damaging substances. Use prior to conditioning for deep cleansing. Perfect for most surface stains. May not remove indelible markings. Read more about this heavy cleaning formula in our featured Straight Cleaner Guide.
x1 Water Protectant no.3 (6oz)
Water Protectant Formula no.3 is a natural medley of deeply penetrating oils and waxes that both condition and protect leather from malevolent elements. Short of absorbing a thunderbolt, Formula no. is the perfect leather protector for bags, purses, shoes, boots, saddle/tack and leather apparel. Read more about this deeply conditioning formula in our featured Water Protectant Guide.
x1 Premium Healing Balm (4oz)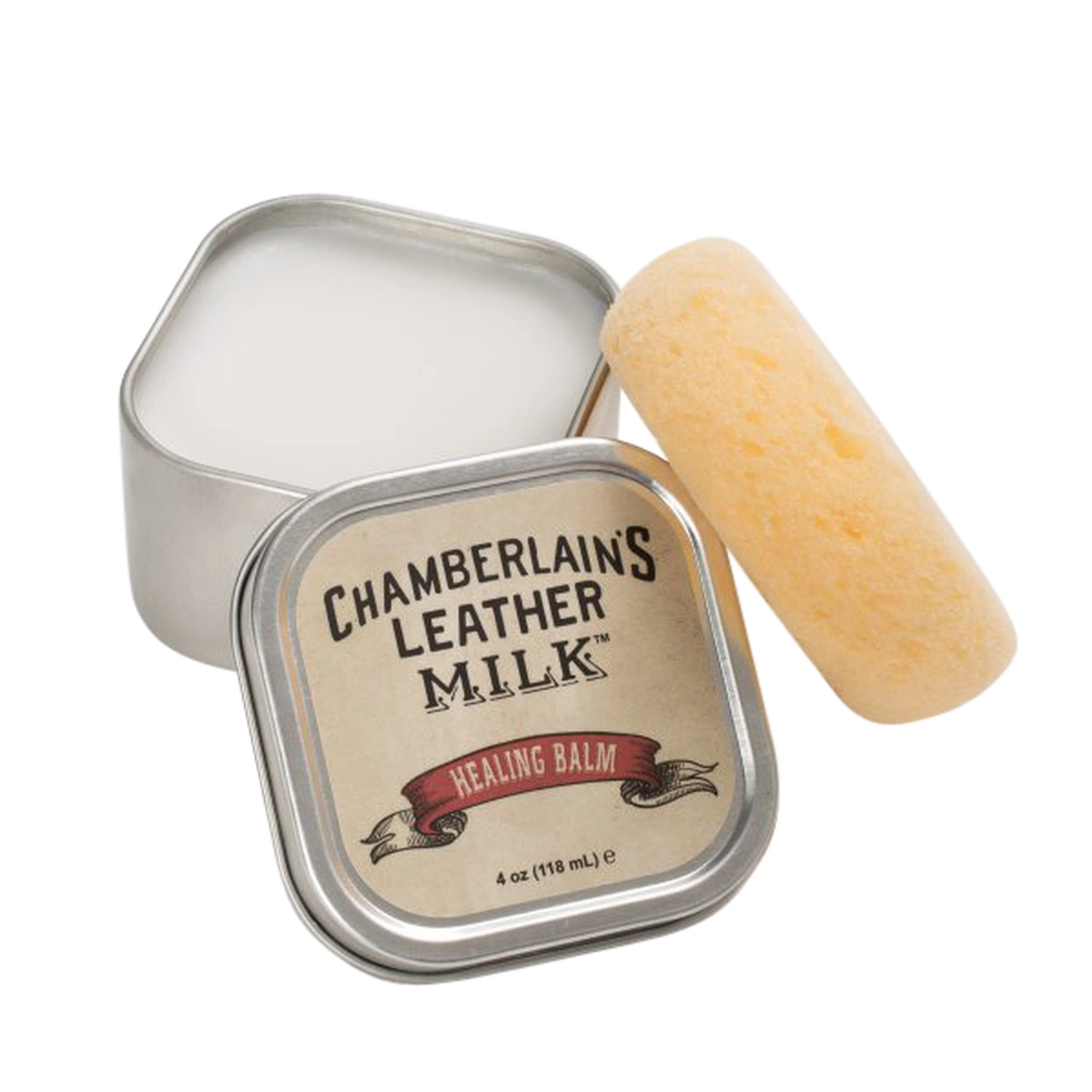 Concocted from the finest, most meticulously selected ingredients, ranging from cosmetic grade adhesives to deeply conditioning oils and waxes, Premium Healing Balm is made especially for aesthetic work, designed for detail and touch up work for leather that's seen better days. Whether your leather is plagued by scratches, scars, cuts or small cracks in the hide – Healing Balm will milk its wounds back from their rut with form. Carefully optimized to preserve glossy and shiny finishes, this all-natural, curating potion will enrich the color and vibrancy of your leather, and beautify for years to come. Read more about this beautifying miracle-past in our featured Healing Balm Guide.
x1 Horsehair Bristle Detailing Brush
Use this slender brush to remove dirt and debris in hard-to-reach places on your leather, like inside crevices or between stitching. The soft, scratch-free horsehair bristle on this instrument will ensure you don't have to worry about harming your leather as you brush your leather clean and speckle-free.
x3 Cotton Terry Applicator Pads
These cotton terry applicator pads will be the primary instrument you use to apply general conditioning formulas, like Leather Care Liniment or Water Protectant. With a soft, yet firm texture, the absorption factor in these instruments makes applying liquid evenly across leather surfaces easy peasy lemon squeezy. What's more, these hearty instruments are completely reusable! Machine-wash them or even clean them by hand under the sink — and they'll be right beside you the next time you treat your leather to a conditioner feast! Applicator pads are also sold separately on our storefront.
x2 Applicator Sponges
Applicator sponges are made with Healing Balm and other paste-consistency formulas in mind. These conditioners will rest easy on the sponges surface, ready to apply soft coats of life-giving formula with the gentlest of touch. The applicator sponge's small size and lack of friction-creating texture means you'll be able to apply conditioner with soft precision, perfect for touching up leather after you've already given it a once over with a lighter conditioner, like Leather Care Liniment. Applicator sponges are machine washable and will soon be sold separately on our storefront.
x2 Lint-Free Applicator Cloths
Lint-free applicator cloths are ideal for cleansing your leather with deep cleaning formulas like Straight Cleaner. Because of their soft, yet friction-inducing texture, they're also handy for dry-buffing leather, smoothing out its texture and grain, and knocking off loose debris. Its flexible size means you can cover as much or as little surface area as you please, with absorbent properties that ensure your leather will only receive as much cleaner as it needs. Handle gently, and let this applicator cloth's natural texture do your work for you as you buff and clean. Lint-free applicator sponges are machine washable and washable and will soon be sold separately on our storefront.
x3 Detailing Staves
tailing staves are our tiniest applicator instruments, making short work of your leather's biggest headaches. The fine tips on these instruments are designed to apply formula or remove debris in smaller crevices, around shoelace holes and various rivet, hardware and anchor edges.
HOW DO I USE IT?
1. Follow instructions. If your leather came with instructions for how to treat it from the manufacturer, follow those instructions. You should also take a look at the directions we've included on the back of each Leather Milk bottle for you (or in Healing Balm's case, the bottom of its tin).
2. Ready your instruments. In most conditioning sessions, you'll want to clean and condition, so you'll want to use a combination of Straight Cleaner and any of the three conditioners to moisturize your leather afterwards. Use the horsehair bristle brush for brushing off debris in tricky areas. When applying your formula, you can use any of the four applicator instruments included, although we prefer to use the cloth for buffing and Straight Cleaner, the pad for Leather Care Liniment or Water Protectant, and the sponge for Healing Balm. The detailing staves can be used with any formula in tricky-to-reach areas. Good leather care is all about art and technique, so never hesitate to do whatever works best for you and your own, unique leather.
3. Always test your Leather Milk formula in a discreet area first. Use a small amount of liquid, let it dry naturally, and come back to see how it looks. If it's to your liking, go ahead and treat with it! If you are treating very natural leathers, like aniline or vegetable tanned leathers, you might want to test in multiple places to make sure the formula will apply evenly.
4. Clean & Condition! Dust off your leather with a lint-free cloth and the horsehair bristle brush. When you're done, apply Straight Cleaner. Let the leather dry naturally. Afterwards, apply Leather Care Liniment or Water Protectant. Use Healing Balm to touch up individual places on your leather, if you feel it needs it. Be gentle (buff, don't rub), and only apply as much formula as naturally absorbs — don't overdo it, or you'll choke your leather!
5. Repeat this process around 3-5 times a year (or whenever your leather is dirty), depending on the climate and amount of use you give your leather. Squeaking, dry and rough texture, and a fast absorption of fluids are all signs your leather could use more conditioner.
THIRSTY FOR MORE KNOWLEDGE?
Premium Leather Restoration Ensemble was designed to be our all-inclusive toolkit, giving you everything you need to maintain or restore your leather in almost any situation. There aren't terribly many leathers this kit won't treat, although the type of leather you are treating may demand a differing approach from the next leather item. Unfinished leathers are generally very absorbent, so if you have any leathers made from top grain, vegetable tan, aniline finish, or any otherwise very natural make, use extra caution when treating, as they will absorb anything you give them rather quickly. Similarly, neglected or extremely dry leather will also drink your treatments up more quickly and in greater quantity than usual. Keep the same pace as you would treating any other leather, allowing the treatments to absorb into the leather at a steady pace, until the leather has had its fill. For treating suede-like leathers, we recommend using our Suede & Nubuck Care Ensemble. Check out our blog for advice about even more leather care situations, like removing a water stain, darkening or lightening up your leather, or even giving your leather item a distressed or patina aesthetic!
If you have any allergy concerns, be sure to Contact Us to ensure none of the ingredients will be harmful to anyone coming into contact with the treated leather. Individuals with nut allergies are not advised to use Leather Milk. For more health recommendations, please visit our dedicated SDS (Safety Data Sheet) page.
If you are a leather aficionado like us, and enjoy keeping a wide variety of leather artifacts around you at any given time, or you enjoy repairing leather and making old hides look brand new, Premium Leather Restoration Ensemble was made especially for you. Test your recipe on your leather first and maintain it well – and Leather Milk will save your hide!