Posted by Daniel Sutton on Jul 27th 2014
Howdy Leathermancers! Today, we're grabbing our cigars and settling into our comfy chairs for a leisurely chat with the big man and founder of Vanderburgh & Co. In case you didn't know, Vanderburgh's behind some of the highest quality humidors you'll find out on the market, along with some truly jaw-dropping leathercrafts for the brave and the bold among us. Seriously, go check out what Eddie's got for you at www.vanderburghhumidors.com. These crafts can often take months to complete, and they're all handmade to perfection with beautiful natural materials. Across the Vanderburgh humidor threshold, you'll find a style that captures the glory days of twill jackets and old vintage land rovers, with an exotic flair influenced by Eddie's many travels. It's all about the synergy of art and function.
Enough mere mortal talk. Let's give the mike to the man.
What's the first thing people should know about a quality Vanderburgh humidor?
Eddie: A humidor is almost like insurance. People often don't realize the value of cigars that are being cared for inside their humidor. It's not uncommon at any point to have $1000-$1500 in cigars being taken care of by their humidor. And a humidor's main purpose is to facilitate a perfect smoking experience while creating conditions for long term aging. We build humidors with this core purpose in mind, using fine materials to help encourage this. The combination of thick hardwood body, granite floor, and our own seal design help keep temperature stability and encourage aging properties. American made solid hardware, and hand finishing provide the beauty of a handcrafted humidor of heirloom quality worth investing in.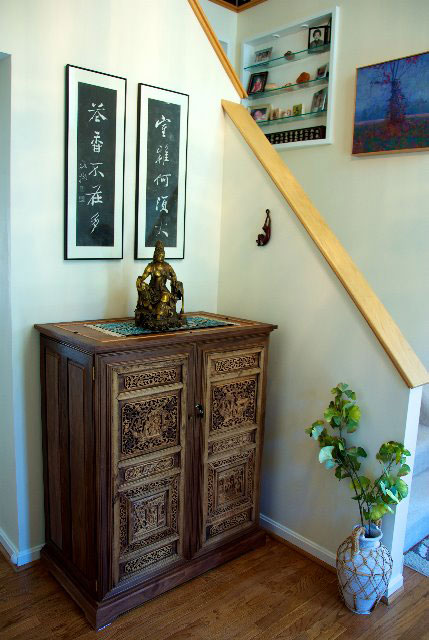 Chinese Antique Panel Vanderburgh Humidor
Your Chinese Antique Vanderburgh Humidor really captured my eye – it's a beautiful piece of work. Explain to me the process for making these crafts. How do you come up with a design? How do you decide what materials to use, and how long does it take?
Eddie: In this particular case, the client provided the antique door panels that we incorporated into the design. Often we allow the wood to 'speak to us'. Although that may sound odd, wood character tells a story in itself and begs to be used in different areas. That's the beauty of creating humidors one at a time. We're not concerned about how fast we can get a truckload of humidors out the door. We leave time for the unexpected.
What do you think people like about the Vanderburgh humidor brand? What do you like best about the Vanderburgh brand?
Eddie: I believe people see the Vanderburgh Brand as a place to go for classic, well-built and uncompromised products. One of the things we often say is that we build products for people who are tired of throw-away items. I love the Vanderburgh Brand because it's an expression of myself, the things I love and the things that are important to me.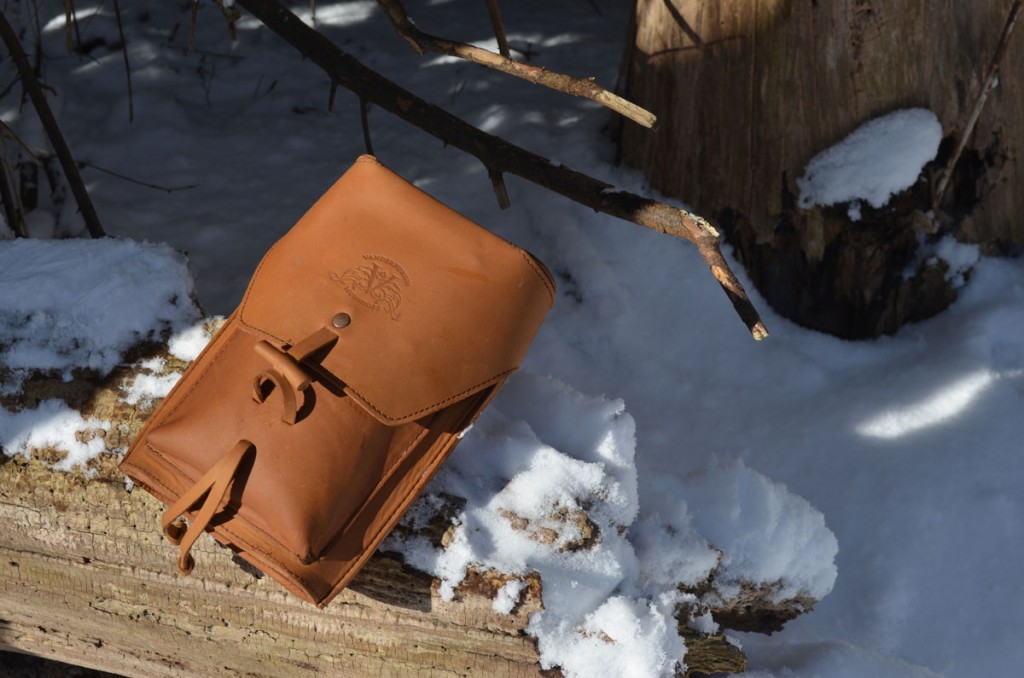 Vanderburgh Leather Pipe Satchel & Pouch
You've got some really incredible crafts under your belt: humidors, satchels, wallets – what can we expect next?
Eddie: We started our business making the best humidors in the world. You can expect more designs coming out - specifically ones designed for the traveller looking for impressive durable items without the use of synthetics or plastic.
You've been around the world a lot. What's most inspired you in your travels? How has it impacted the Vanderburgh brand? How has it impacted you, personally?
Eddie: I'd love the opportunity to be around the world more! I always find culture and art inspire me. Getting out of your own world, and seeing the beauty of other cultures and artisan is always inspirational.
How did you find out about Saddleback? What do you think is the most outstanding feature of your leather?
Eddie: I discovered Dave quite some time ago when I was looking for someone to build leather products for us. Turns out that Dave needed a humidor so we traded some items. Dave and I have a lot of things in common including family, business ideas and our old Land Rovers. Our families have travelled together and we usually get together every couple of years. I totally rely on Dave and Saddleback as the experts to build our leather for us.
From various other interviews and Water for Africa, it's clear you've got a strong appreciation for African culture. How did this come about?
Eddie: Africa has always been close to our hearts. Our family sponsors three kids in Africa including Rwanda, Nigeria and the Congo. It wasn't until recent that we realized that the water is at the very core of all of the health issues in Africa. Water is needed to grow crops and food, and lack of clean water is the cause for diseases which puts a strangle hold on nations. We hope to build clean water wells in Africa for communities to begin to thrive in every way.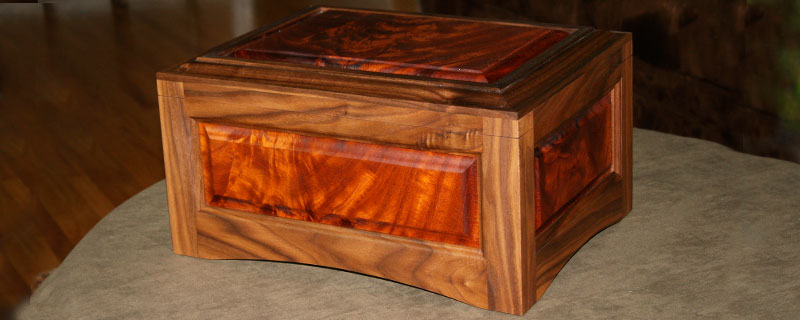 Vanderburgh Walnut Panel Humidor
What do you do when you're not making humidors? What kind of hobbies do you have? What excites and inspires you?
Eddie: I love all kinds of things. I love the outdoors and I love exploring - it both excites and inspires me. I have an old 1954 Land Rover that I am restoring that is very therapeutic. I am a huge football fan and love to travel, and am a connoisseur of craft beer. I love gardening and swimming, canoeing, skiing. I could go on forever!
What's your vision for Vanderburgh?
Eddie: I'd love to see Vanderburgh be able to support artisans all around the world combining their talents with some of the most unique desirable, limited creations available. There are so many richly creative people with limitations in their craft because of poverty.
Thanks for the Interview, Eddie