Posted by Daniel Sutton on Jun 3rd 2014
"A theory is the more impressive the greater the simplicity of its premises, the more different kinds of things it relates, and the more extended its area of applicability." – Albert Einstein
Leathermancers, we've got a story for you today. A story of rugged resolve, artistic insurrection, an unshackled entrepreneurial spirit, and one brilliant idea that set two love-struck heartthrobs (and their canine friends) off on one mad adventure. This is the story of Amōs.
It's all in the name. The word Amōs comes from Ancient Hebrew, and translates in our late Anglo-Frisian derivative dialect into "to carry." And that's exactly what Amōs founder Kyle Bardouche did. Kyle was an IT Network Admin, a husband, and a dreamer. One part of the day he carried an entire corporation's computer network under his fingertips. The next, he carried the slender, ringed hand of his eternal soul mate, Erin. But for those odd hours of the day when Kyle Bardouche allowed himself to drift off into that limitless wonderland known as the imagination, he began to notice his hand felt oddly empty. A sad thing too, for there was so much else he wanted to take with him. He was just discussing this matter with Erin one late January day when an idea collided into them. Kyle needed a bag, and not just any bag would do. He needed the finest bag, crafted from the finest leather, unrivaled in sporty elegance, classiest of classy styles, and forged of the simple simplicity to delight the eye of generations beyond his time. The two did search high and low for this holy grail of animal hide, to no avail. Whether too rugged and bulky or too high end designer pomp, no leather bag could quite satisfy. Yet that could not stop Kyle and Erin from chasing their dream. Seeing no bag befit to carry in their hands, they resolved to conceive a new bag made with their own hands. Thus was born the Eli Weekender Travel Bag.
Oh, and I forgot to mention. That late January day? That's this January, as in January 2014. They're just getting started, and oh, what a fireworks parade of a debut they've made.
When I asked Kyle what inspired him most when designing his bags, I received a holy triad of like-minded industrial pioneers: the J. Crew fashion designers, Apple, and BMW automobiles. As I glanced through the catalogs of these cutting edge companies, I began to see the resemblance all at once. There's no call for excess and needless extravagance – Amōs, in Kyle's own words, is "all about minimal design and timeless style." But don't take my word for it. Have a look at our favorite photography studio TheImageAlive's Eli Weekender shoot and see for yourself what Kyle's talking about.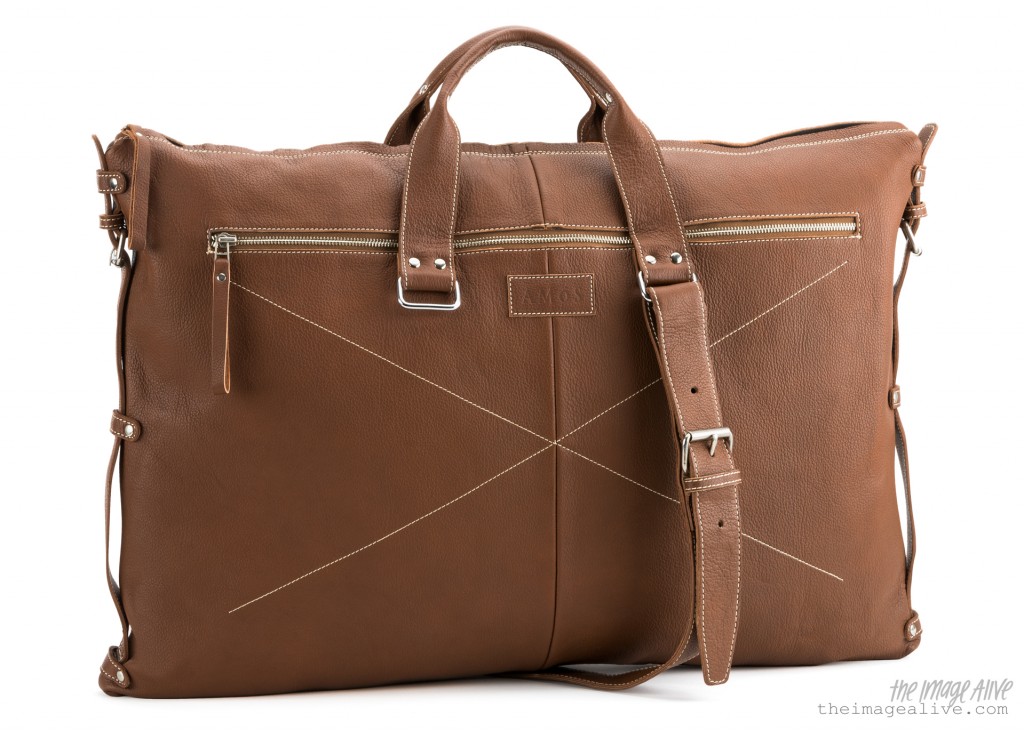 But enough about the company. What about the bag itself?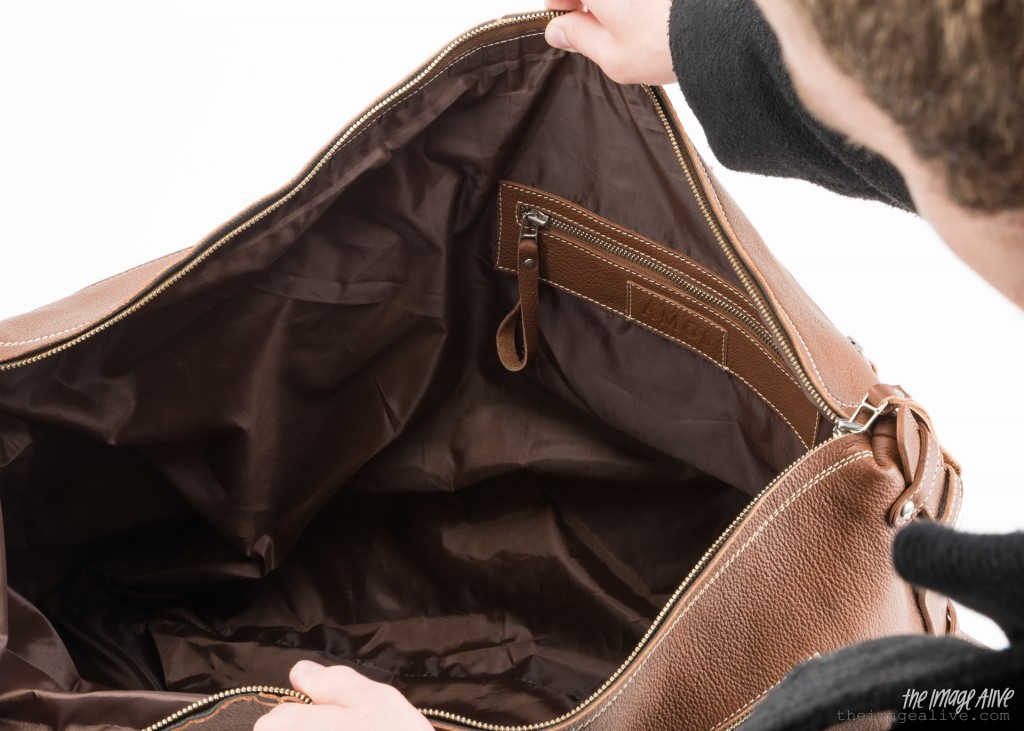 Amōs Eli Weekender photographed by TheImageAlive
As you can see on the inside, the Eli Weekender is rather spacious. There are three main compartments: the primary zippered space (with an additional accessory pocket inside), and the two large pockets flanking it on either side, each around 2/3 the size of the main section and deceptively roomy (see the X marks the spot on the first photo for size illustration). All linings use waxed nylon fabric.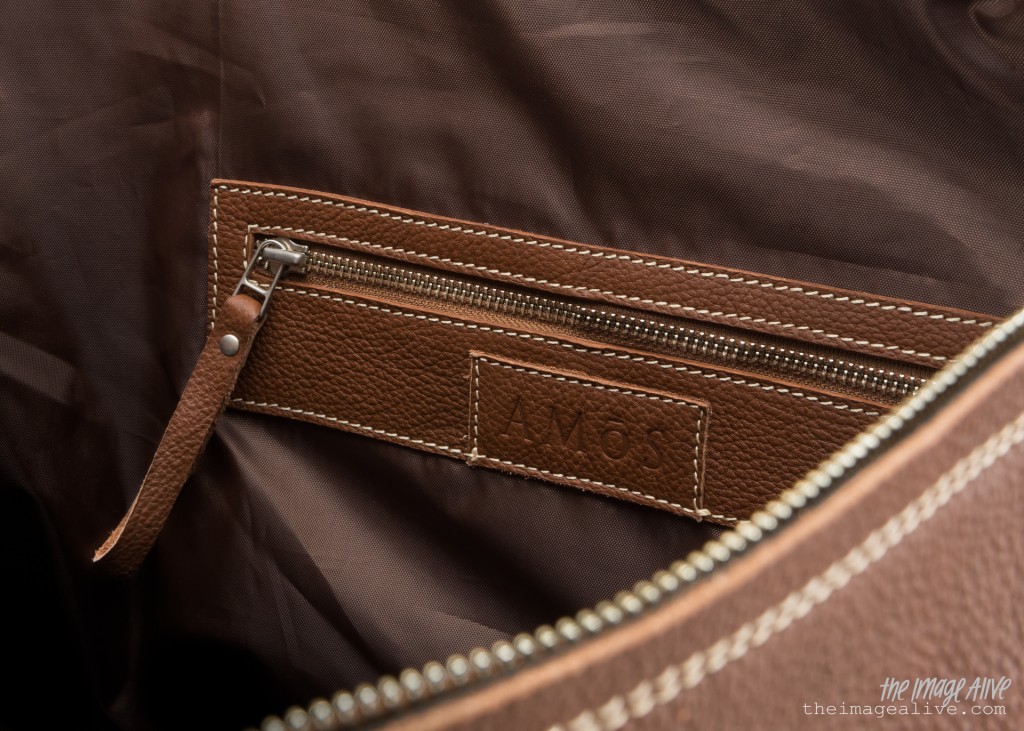 Amōs Eli Weekender photographed by TheImageAlive
Before I go on, know that I'm talking about a carry-on bag that's a whopping 64cm x 30cm x 21.5cm, which is big enough to easily fit the staggering towers of books I carry around with me everywhere. Pretty dang handy. The Eli Weekender also features adjustable shoulder straps for those longer trips on the road, which can be removed and tucked away nicely when not being used. It's all a pretty awesome design.
As for the leather, you're getting traditional, top grain, semi-aniline dyed cowhide with your Eli Weekender (read more about this type in our blogs "How to Identify Types of Leather," and "Know Your Leather Grains"). For cleaning and conditioning this animal, Chamberlains sell an alcohol-based Straight Cleaner no. 2 for deep cleaning sessions, and Leather Care Liniment no. 1 to condition and moisturize the weekender. They both should be applied generally 2-4 times a year depending on the climate and exposure to the elements the Eli Weekender gets. You can read more on that in our blog "How Often Should I Condition Leather?" Be careful not to use too much of either to care for your Eli Weekender – semi-aniline leather does have some protective coating, but it is a mostly natural leather, and more porous than other types. A little goes a long way, and make sure to spread your leather cleaner and conditioner evenly, so that it dries naturally. Always follow up alcohol leather cleaning with a leather conditioner, or your Eli Weekender will dry out.
Lastly, keep your Eli Weekender in a healthy place. For leather, this means that it should stay away from sunlight, humidity, and direct heat. Indoors is preferable, in a cool location where it will attract minimal dust. A dust jacket is an excellent cover, or a pillowcase, should you have one to fit. You can also stuff it with newspapers or packing paper (such as the kind your Eli Weekender was shipped with) to give it further protection and maintain its shape. For any other problems such as stains or spills, check out our other blogs on this site.
Minimal Design, Timeless Style
If you're in the market for a new carry-on bag, we recommend you pay Kyle and Erin a visit at www.amosbrand.com. They've already released several excellent products aside from the Eli Weekender, including wallets, cases and satchels, and are always hard at work scribbling up more designs. I found Kyle and Erin to be very accessible and warm people who take an active and personal interest in delivering quality leather. Their own personal relationships take a factor into each piece: the Eli Weekender and the Zoe Tote are actually named after their dogs, a black lab and an Akita mix, respectively. Kyle has personally informed me all their future releases will also be dedicated to close friends. But Kyle and Erin's dream extends further than this. With time, our star-crossed lovers hope to cultivate Amōs into a full lifestyle brand, with products including waxed canvas bags, belts, shoes, money clips, initial rings, and even a pet line. I'd like to add that one of my Leather Milk friends mentioned she would totally like to have a purse from Amōs, so Kyle and Erin, if you're listening, better get on that!
Amōs Eli Weekender Travel Bags are available at AmosBrand and Amazon for $399.00. Buy one today, and tomorrow you can pride yourself as one of the original customers that made them a household name! While you're at it, pitch them a personalized monogram to put on your new Eli Weekender, because that's one radical bonus feature they'll give you on their website for free. Good luck Kyle and Erin!
Contributors
Product Photography by imagealivestudios.com
Kyle & Erin Bardouche (amosbrand.com)
Daniel Sutton