Posted by Leather Milk Customer Orders on Sep 22nd 2016
Can you keep a secret?
This is Daniel, social media correspondent here at the Milk Farm. We've made some new friends lately, and I've got some exciting leather to show you! Welcome to Amilu Brand!
Amilu, founded by Elisabeth Jones in 2006, specializes in women's fashion. If you've not heard of the brand, you're in for a treat. In Elisabeth's own words:
"We are not a big showy company, hanging off the arm of every celeb, more of a well kept secret. Steadily growing stronger, empowered just like our customers, standing by the principal of my original inspiration. Amilu's success is down to organic growth all spread by great customer satisfaction and word of mouth. As our empire grows so does our Amilu family."
Bold words! So what exactly does Amilu do? You guessed it: leather! Beautiful, gorgeous, vibrant leather, all the colors of the rainbow. Have a look for yourself!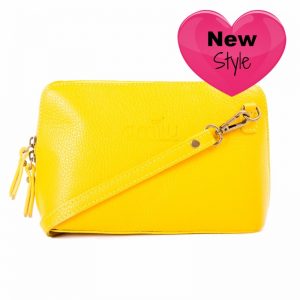 This is the Ely Crossbody Handbag, in sunshine yellow. Like all of Amilu's designs, this crossbody bag is handmade from the finest Italian leather, with a supple, micrograin finish. You are actually looking at Amilu's brand new redesign of the classic Ely crossbody bag, just released! Good luck peeling your eyes off of this beauty!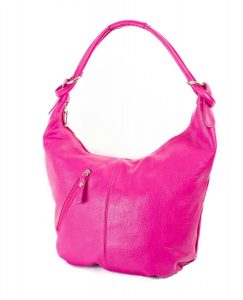 After you're finished wistfully hovering over Ely, take a moment to gaze on this other rare gem: the Aylesbury Hobo Slouch Bag! Colored in pearl white or fuchsia pink, this hobo is a "superbly comfortable wear" that "slouches in all the right places to create the ultimate smart but relaxing shoulder bag." Honestly, I'm tempted to buy this hypnotic bag as my new pillow replacement! Look at that supple-y softness!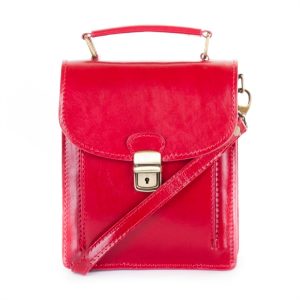 If you'd prefer a little more structure and pointedness in your handbag, look no further than Amilu's Red Leather Satchel! This particular handbag is made with exquisite, shiny calfskin, even developing a rich patina with time and use. Inside, you'll find several divided sections to stay organized, all with a "unique vintage chic feel." I get the feeling any lady wielding this scarlet handbag could stare into the eyes of a grinning lion, and the lion would blink first.
But that's enough window shopping - you're going to have to visit Amilu yourself to view their full, flowery palette of fine leather effects. FYI, they've also got a catching line of exotic leathers, like the Chalfont Shoulder Handbag, devised from soft suede and embossed with mysterious, serpentine patterns. Okay, one more peek!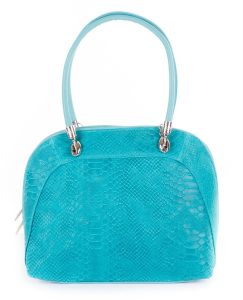 So what's Amilu's story? According to Elisabeth Jones (founder of Amilu) herself, the idea for Amilu came while she was visiting the United States back in '06. After several years of working in the greeting card business, Elisabeth was in the mood for a new challenge. As she toured the malls and plazas, tasting the local fashion, she recalled a recent conversation with her friends, who bemoaned the difficulty of finding a dependable handbag. Whether it was the lackluster aesthetic or the poor quality fabric used to make them, good paraphernalia seemed few and far between. Grand, budding entrepreneur that she was, Elisabeth had found her muse. With her last $200, she took the plunge and bought several evening bags that caught her eye, and began to learn the trade. It was not long after that Elisabeth designed and crafted her very first handbag in her own living room, where Amilu was born.
10 years later, Amilu is a full-fledged brand, operating out of a renovated religious meeting place on the grounds of a 17th century Manor in Derbyshire, England. The place is seriously inspiring, held together by centuries-old oak beams taken from seafaring ships, now hung with rainbows of handbags. Outside: waving hills and green panoramas, peaks, and dales, and deep blue skies - all of it inspiration for Amilu family's next handbag. Talk about living the dream.
"She believed she could so she did"
That's the Amilu byword. According to Elisabeth, a handbag is not only a necessity. It's also a statement, helping to make us different, and expressing to the world who we are. With the right bag on her shoulder, a girl feels like she can take on the world, and has all the tools she needs hanging on her shoulder. Elisabeth delights in the sparkle she sees in ladies' eyes as they find that once-in-a-lifetime handbag of their dreams. In every leather masterpiece, handcrafted with love, Elisabeth hopes to capture this inspiration: "designed by women for women, Amilu is also about enhancing a woman's life not only through style, but also through practicality."
We've also been happily informed that Amilu's a big fan of Leather Milk, and uses Leather Care Liniment to treat many of their handbags (just not anything suede). You're going to make us blush, Amilu!
So go out and share the secret with all your friends! We won't tell.
You can visit Amilu's Website here! Give Elisabeth our regards!