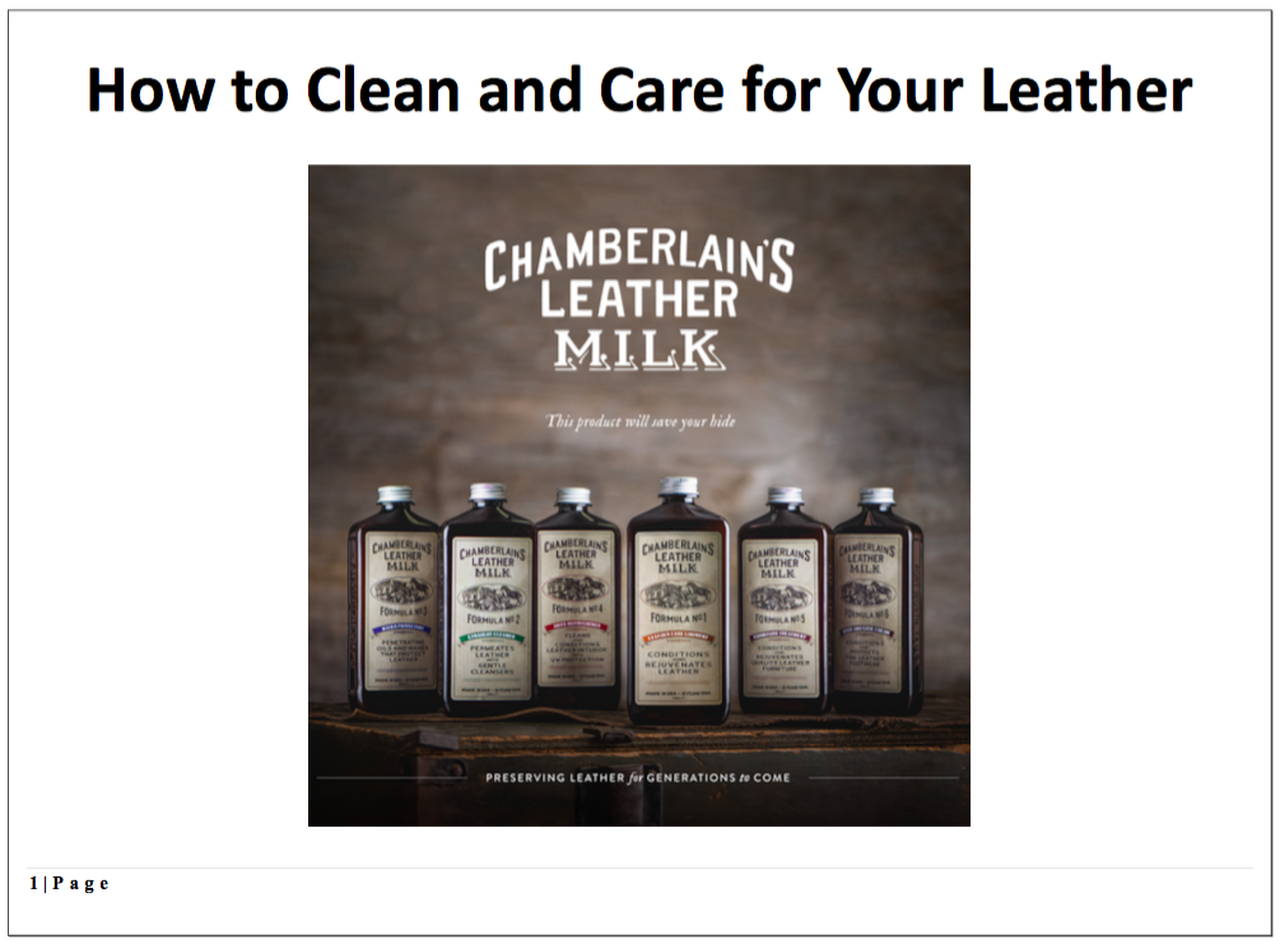 FREE Chamberlain's Leather Milk Ebook
Look out world! Chamberlain's Free Leather Milk E-Book is here! This all-purpose leather care primer is designed to give you all the tools you need to bring the best out of your leather. Equipped with years of experience from seasoned leather professionals and streamlined access to all your burning questions about Leather Milk recipes – this is one ebook you can't afford to miss.
Crafted for Leather Milk fans and general leather aficionados alike, there's a little something for everybody in our new ebook. Perhaps you are wondering how often you should treat and clean your leather? Solved. Curious about what kinds of leather are out there and how they are made? We've got stories for you! Or perhaps you just wanted to figure out how to get that strange odor out of your leather, or help it to grow a nice sheen of patina. All the answers you need can be found within.
This eBook was assembled as a reference by our very own team of leather experts, designed to collect all of our most useful information we've shared with customers throughout the years. Now, for the first time, we are sharing this book with the world. Straight out of our hearth come answers to the most common questions we've received over the years about our recipes. Following this, we explore our passion for leather by diving into an all-you-can-read buffet of leather knowledge: how it is made, the many types you can find, comparisons between types, all the best ways to care for your leather, and what to watch out for as you milk your leather to perfection. Topping it all off, we have a virtual encyclopedia of invaluable home remedies and tactics for every leathery situation you can think of.
This complete leather care guide is designed to grow as we update it periodically, giving you quick and easy access to some of the best leather care advice on the web! If you have specific content you would like for us to address, or comments you would like to make, message us anytime through our customer service page. We look forward to speaking with you!
Happy reading, friends!